The Testimony of Hands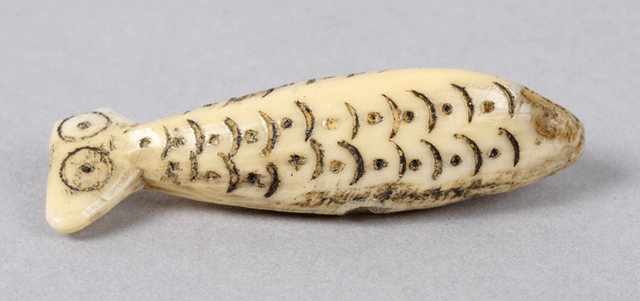 63.3.3, fish lure of walrus ivory
Inuit; Alaska, Point Hope? (A.D. 800–1300?)
Frank Hibben collection
Photograph by B. Bernard

This fish lure is about 5 centimeters (2 inches) long. The "scales" were created by drilling on a slight slant with a composite drill bit (like the one used on a bone pin featured under "Ornaments"). As is the case with so many Inuit (Eskimo) functional artifacts, the ivory fishing lure represents an aesthetically pleasing solution to the challenges of an extreme environment and a limited range of raw materials. Even in such conditions, the human need for beauty and creativity is obvious.
To return to the North by Southwest learning path, click here. To return to the thumbnail on the Tools page, please click here. To return to the bone pin, please click here.
---
All content copyright © Maxwell Museum of Anthropology, University of New Mexico. High-resolution versions of photographs may be ordered from the Maxwell Museum's photo archives. Please make note of the catalogue number. For more information please visit the photo archives web page
---
Page last revised on May 26, 2011. Please report problems to toh@unm.edu