The Testimony of Hands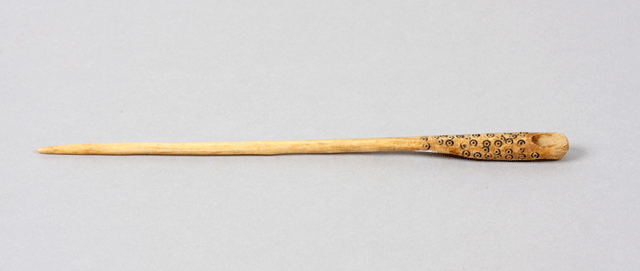 57.5.21, ornamental pin of bone
Prehistoric Peru
Watt Stewart collection
Photograph by B. Bernard

This pin is 20 centimeters (8 inches) long and may have served to hold up someone's hair, or to pin a cloak in place, or for many other purposes. What makes it striking is the decoration added to the butt end of the pin. The circles were cut into the bone with a bow drill with a composite bit (a pointed bit set inside a hollow bit), providing a good example of the sophistication that could be achieved with "primitive" tools. The fish lure shown under "Tools" was also decorated using a composite bit.
To return to the thumbnail on the Ornaments page, please click here. To return to the fish lure, please click here.
---
All content copyright © Maxwell Museum of Anthropology, University of New Mexico. A high-resolution verson of this photograph may be ordered from the Maxwell Museum's photo archives. Please make note of the catalogue number. For more information please visit the photo archives web page
---
Page last revised on September 1, 2009. Please report problems to toh@unm.edu