The Testimony of Hands
Chimú Pottery
Two Early Stirrup-spout Jars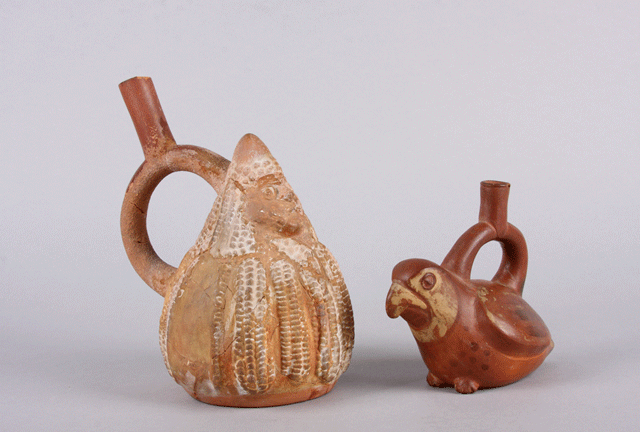 Photograph by B. Bernard


Stirrup-spout jars are Proto-Chimú inventions. They combined elements from highland Peru with basic Moche ware. These two Proto-Chimú or Transitional vessels represent an essentially Moche tradition (red ware with yellow and black slip decoration) with a few Chimú additions (stirrup spouts, absence of handles except tubular ones related to the stirrup, abstraction). The subsequent development of Chimú style shows a tendency to assimilate stylistic traits derived from practically every part and period of Peru. The eclectic combination of elements inherited from Proto-Chimú demonstrates the artists' ability to utilize and manipulate elements of alien origin.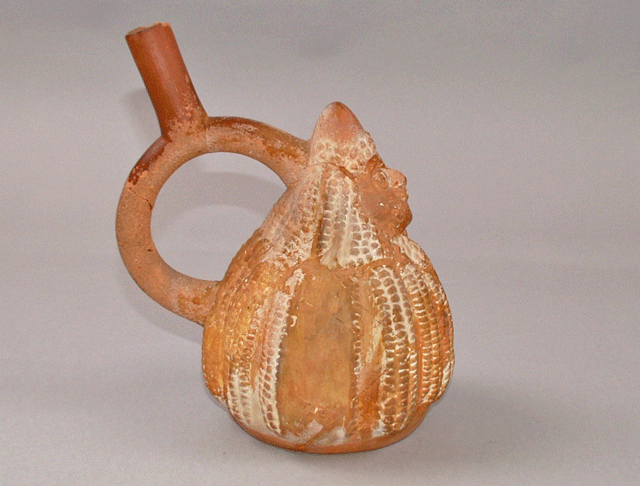 37.9.9, mold-made stirrup-spout jar with "corn man"
Proto-Chimú (A.D. 900)
From Chimbote, between the Santa and Nepeña River Valleys
Gift of Watt Stewart

The jar shown above combines a realistic representation of corn (maize) and simplfied features of a human face into one of many Chimú deities. The jar is 18 centimeters (7 inches) tall, not including the stirrup spout. A second picture, below, shows the corn combs more clearly.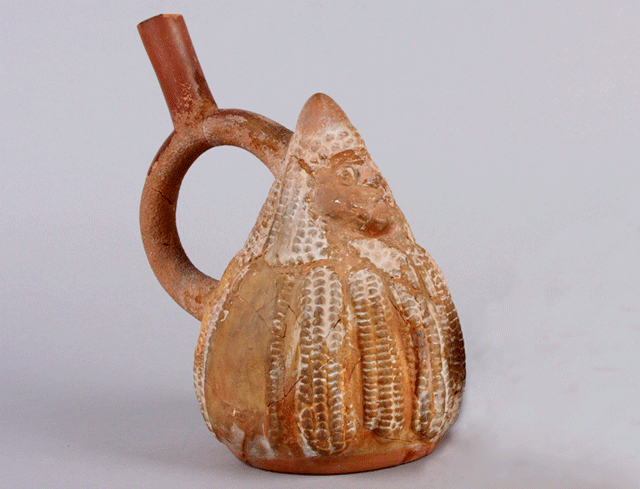 Photograph by B. Bernard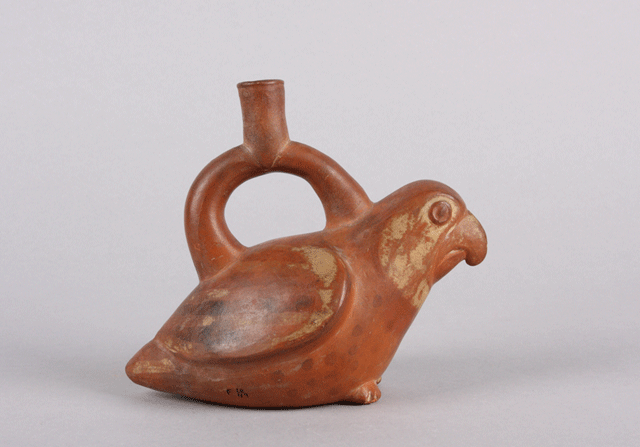 57.5.8, mold-made stirrup-spout jar in form of parrot
Proto-Chimú or Transitional Style (A.D. 900)
Exchange item from the University of California

Chimú representations of animals and birds show a sureness of imagination. Parrots were an especially popular subject. This jar is 14 centimeters (5 1/2 inches) tall. The next photograph shows the jar from a different angle.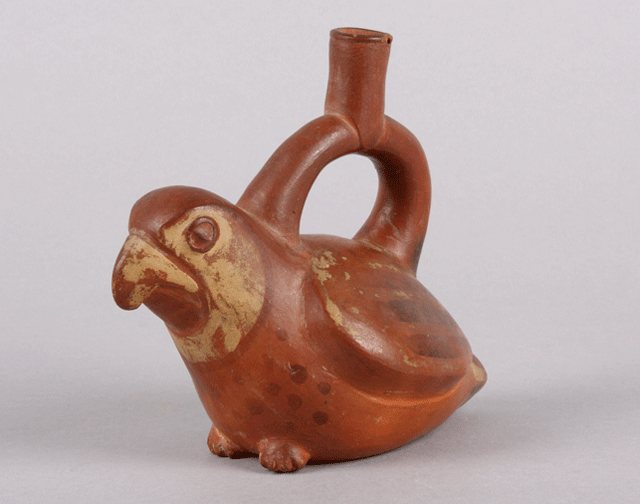 Photograph by B. Bernard



To return to the thumbnail on the previous page, click here.
---
All content copyright © Maxwell Museum of Anthropology, University of New Mexico. High-resolution versions of photographs may be ordered from the Maxwell Museum's photo archives. Please make note of the catalogue numbers. For more information please visit the photo archives web page
---
Page last revised on March 7, 2011. Please report problems to toh@unm.edu