The Testimony of Hands
An archer wearing a bow guard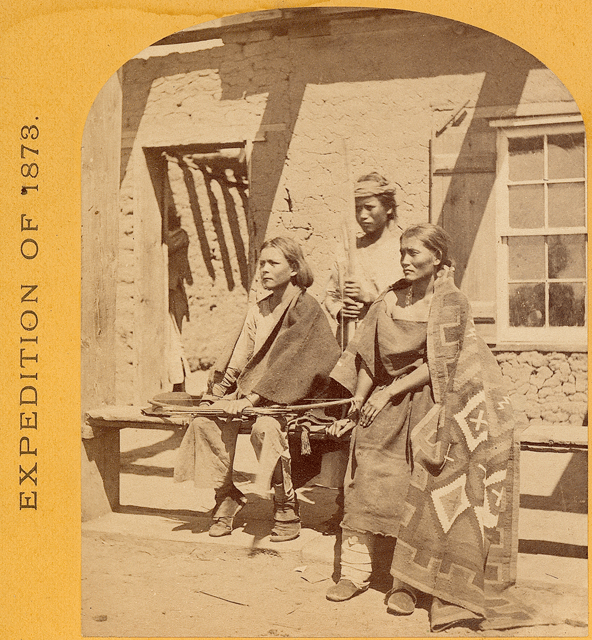 90.13.28, stereo pair image of three Navajos
Fort Defiance, Arizona, 1873
Photograph by Timothy O'Sullivan
Maxwell Museum photographic archives

This photograph of three stiffly posed Navajos is included because it shows an archer with a bow guard strapped around his left wrist. In this case the bow guard is thick leather, as can be seen better in the close-up below. Navajo bow guards are sometimes known as "ketohs."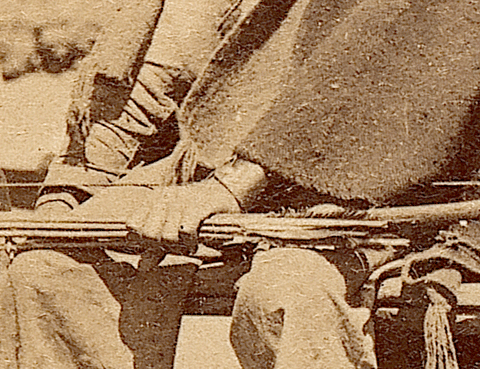 About the time the photograph was taken, Navajo jewlers started adding silver designs to bow guards. With more time the bow guards ceased to be functional objects, instead becoming a type of jewelry still made today.
To return to your place on the page about Arctic bow guards, click here.
---
All content copyright © Maxwell Museum of Anthropology, University of New Mexico. High-resolution verson of photographs may be ordered from the Maxwell Museum's photo archives. Please make note of the catalogue number. For more information please visit the photo archives web page
---
Page last revised on May 31, 2011. Please report problems to toh@unm.edu