The Testimony of Hands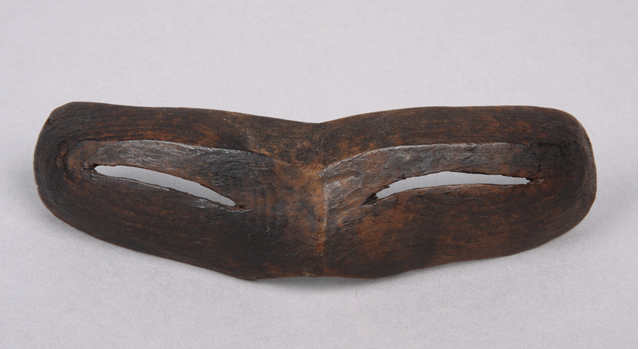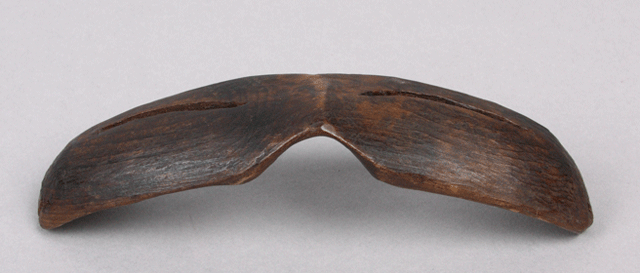 75.35.304, snow goggles of wood
Middle Birnik (A.D. 700–800)
Walakpa Site, Alaska
UNM Research Collections
Photograph by B. Bernard

If you have ever traveled or done serious work in the snow, you know that snow blindness (photokeratitis) is a serious problem. For a hunter or fisher far from home, temporary loss of vision can be fatal. If you do not have glasses to block ultraviolet radiation, one solution is to create a mask with narrow slits. Most of the ultraviolet radiation is blocked, and enough light gets through to let you see. Most climbers and backpackers carry materials that can be converted into an emergency pair of snow goggles—a folded piece of map and a shoelace, for example.
Arctic people did not have glass for goggles, so they carved permanent slit-type goggles for use on the snow and ice. Though quite simple in concept, this pair has lines that a sunglass designer—or a superhero—might envy.
To return to the North by Southwest learning path, click here. To return to the Survivor: Prehistory clothing page, click here.
---
All content copyright © Maxwell Museum of Anthropology, University of New Mexico. High-resolution versions of photographs may be ordered from the Maxwell Museum's photo archives. Please make note of the catalogue number. For more information please visit the photo archives web page
---
Page last revised on June 3, 2011. Please report problems to toh@unm.edu