The Testimony of Hands
Spun Fiber Sandal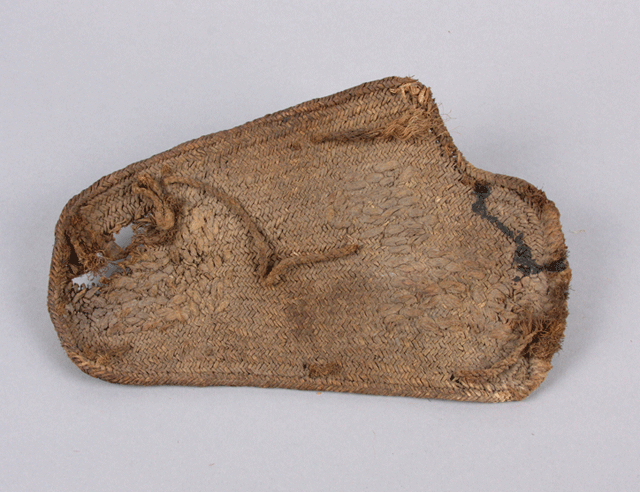 40.2.6
yucca fiber sandal
Ancestral Puebloan (probably A.D. 500–1100)
Photograph by B. Bernard

This sandal was made with spun yucca fiber twine, but using the same plaiting method as the simpler sandals. The different shape of this sandal means it probably protected one side as well as the bottom of a foot. Though they have broken off, there are still bits of twine attached, showing where the loops would have been to tie it on.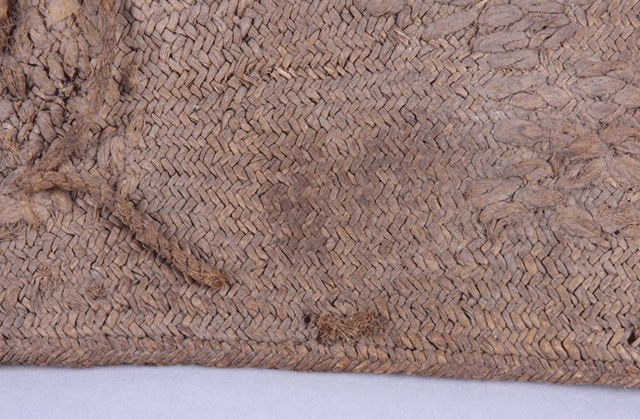 40.2.6 detail
Photograph by B. Bernard

Plaiting produced the diagonal pattern, and patching after it was worn added the larger extra stitches in this example. Since this sandal took more time to make, perhaps that made it worth the effort of patching instead of replacing.
To return to the Sandals page, click here
To return to the Textiles page, click here.
---
All content copyright © Maxwell Museum of Anthropology, University of New Mexico. A high-resolution verson of the sandal photographs may be ordered from the Maxwell Museum's photo archives. Please make note of the catalogue number. For more information please visit the photo archives web page
---
Page last revised on October 6, 2010. Please report problems to toh@unm.edu