The Testimony of Hands
Plaited Sandal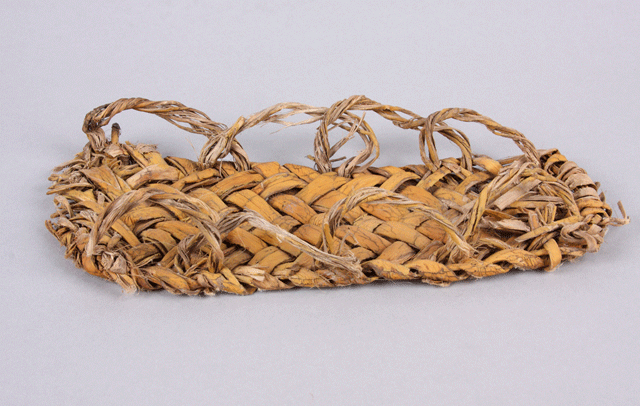 The sole of this sandal was made using strips of unaltered yucca leaf, just like another example. This one also has loops of rough twine made from yucca fiber that has had some of its skin stripped away and the fibers separated and then twisted. Another piece of twine laced through the loops would have held the sandal tightly to someone's foot.
Here is the other side of the same sandal: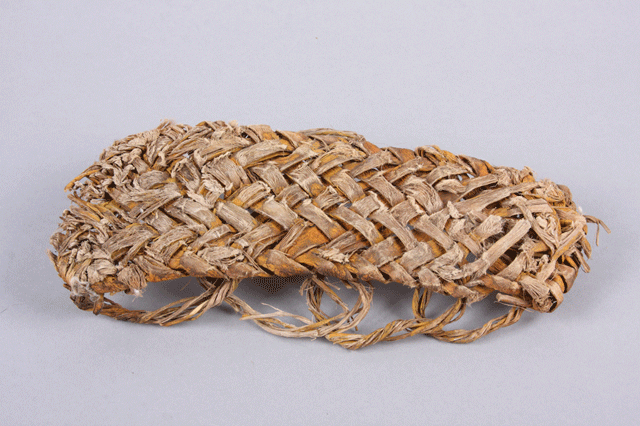 This example is very well preserved compared to most artifacts made from plant materials. The frayed fibers you can see around the toe end shows that this sandal was worn for a while.
To return to the Sandals page, click here
To return to the Textiles page, click here.
---
All content copyright © Maxwell Museum of Anthropology, University of New Mexico. A high-resolution verson of the sandal photographs may be ordered from the Maxwell Museum's photo archives. Please make note of the catalogue number. For more information please visit the photo archives web page
---
Page last revised on October 6, 2010. Please report problems to toh@unm.edu