The Testimony of Hands
Sandals
Prehistoric Southwesterners made a variety of sandals, from simple to elaborate. On this page we'll start by teaching you how to make emergency footgear, but afterwards we'll show you what's possible with more time and patience.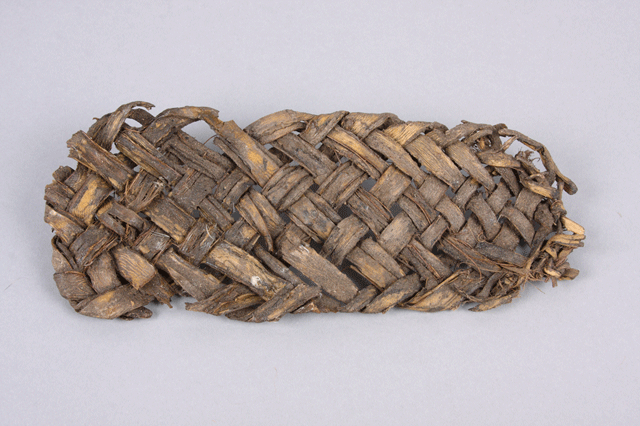 The sandal shown above is the prehistoric equivalent of a cheap flip-flop —for a minimal investment, you get footwear that lasts for a decent amount of time, and that you throw away afterward. To make one, all you need is long, flat strips of tough fiber (plus cordage for the fastening loops, but we'll get to that later). Start at one end and weave the strips one over, one under. When you reach where the edge of the sandal should be, fold over the strip at roughly a right angle and work it back across the sandal. When the sandal has taken shape, tuck in the loose ends and you're done!
Except for the fastening cords, of course. The simplest way to keep the sandal on your feet is to have a loop for your big toe. The next sandal shows a much more elaborate series of loops, which would have worked with a missing lace to ensure a snug fit all the way around.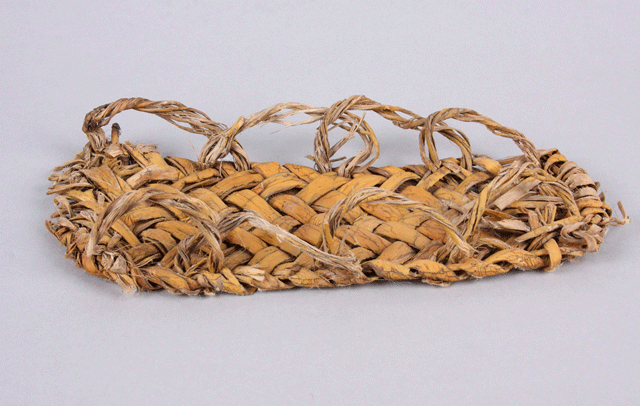 But in an emergency, where would you get strips of tough fiber for sandals? Probably your best bet is the leaves of the yucca plant.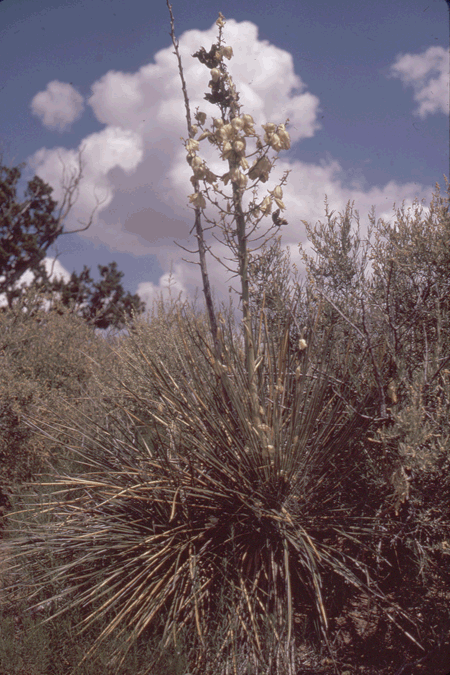 Narrowleaf Yucca
In a real emergency today—or if you're only looking for the equivalent of cheap flip-flops—you can tear strips out of the yucca leaves and weave them into something that'll get you across rocky country. (No yuccas present? Try looking for a "shagbark" juniper.) Yucca plants also provided fibers for finer grades of sandals, which we'll discuss next. The tough leaves would have been broken down by scraping, soaking, pounding, roasting, boiling or chewing to leave only the stringy fibers running along each leaf. This bundle of processed yucca fibers was found in a cave with several others.
Fibers like this were then spun into yarn, which was woven or twined without a loom to produce a sturdy, yet soft and flexible sole.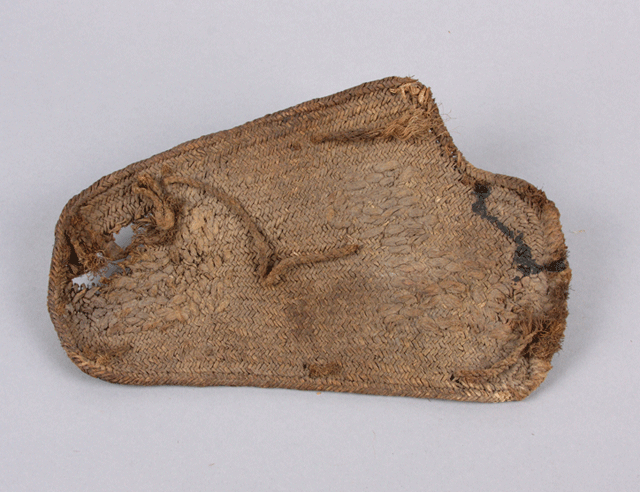 This sandal was made of spun twine, but plaited in a tighter version of the same method used on the leaf strip sandals above.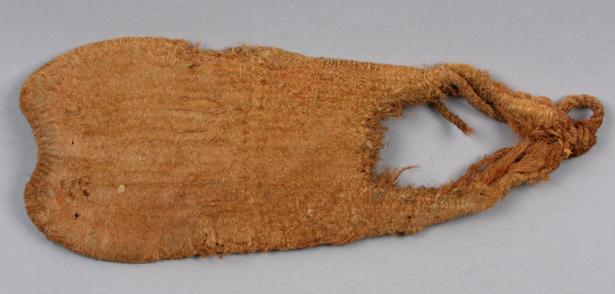 The sandal shown above and the one shown below were thrown away when they wore out at the heels. They are examples of twining, a type of weaving done with finer yucca fiber yarn.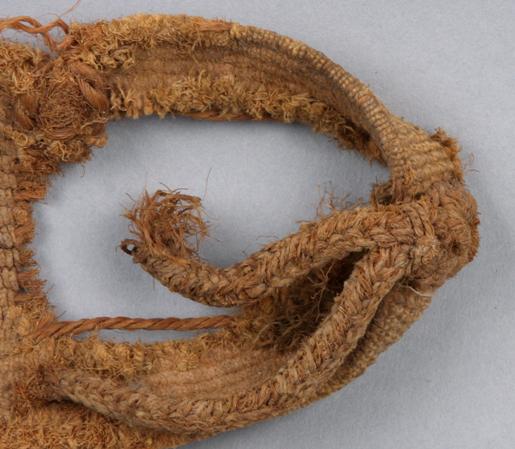 In the close-up shown above, the heel was carefully woven to create a turned-up edge. The heel also incorporates cordage fasteners (now broken off) that would have tied around the ankle.
In winter, sandals could be lined with straw, fur, or feathers for added warmth. The example with the elaborate series of loops, shown earlier, could even have been attached outside moccasins. The variety of materials and sandal types produced in the Southwest is described in a book by Kathy Kankainen.
To return to the Textiles page, click here.
To return to the Survivor: Prehistory thread, click here
---
class="fine">All content copyright © Maxwell Museum of Anthropology, University of New Mexico. A high-resolution verson of the sandal photographs may be ordered from the Maxwell Museum's photo archives. Please make note of the catalogue number. For more information please visit the photo archives web page
---
Page last revised on October 6, 2010. Please report problems to toh@unm.edu