The Testimony of Hands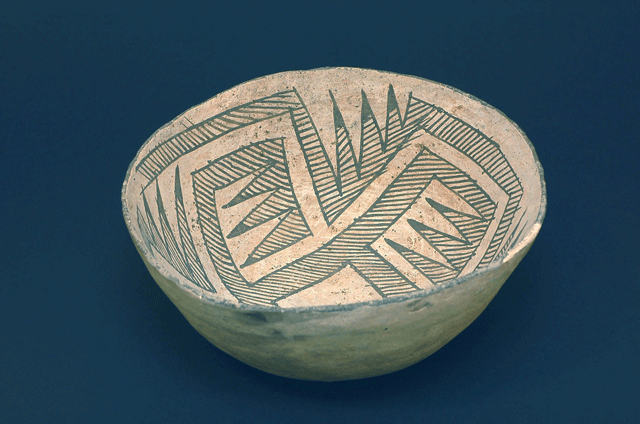 70.60.18, Gallup Black-on-white pottery vessel
Ancestral Puebloan culture (A.D. 1000–1125)
Morton Sachs Collection
Photograph by Dave Lundy



Gallup Black-on-white can be considered a "dye marker" for the Chaco phenomenon, along with Chaco Black-on-white. Both pottery types are characterized by bold designs with hachuring (fine parallel lines) instead of solid paint. Gallup Black-on-white tends to be less carefully painted than Chaco Black-on-white, and also tends to have filled-in triangular tips (as you can see in this example.
At the time, similarly hachured pottery was widespread in the Ancestral Puebloan world, suggesting that Chacoan ideas spread far beyond the actual extent of that cultural phenomenon.
If you live in or vist Las Cruces, New Mexico, you can see this Maxwell Museum vessel on display at the Farm and Ranch Heritage Museum.
To see another example of Gallup Black-on-white, click on the thumbnail below

To return to the thumbnail you selected on the pottery page, click here.
---
Photograph copyright © Farm and Ranch Heritage Museum; used by permission. Other content copyright © Maxwell Museum of Anthropology, University of New Mexico.
---
Page last revised on May 9, 2011. Please report problems to toh@unm.edu