The Testimony of Hands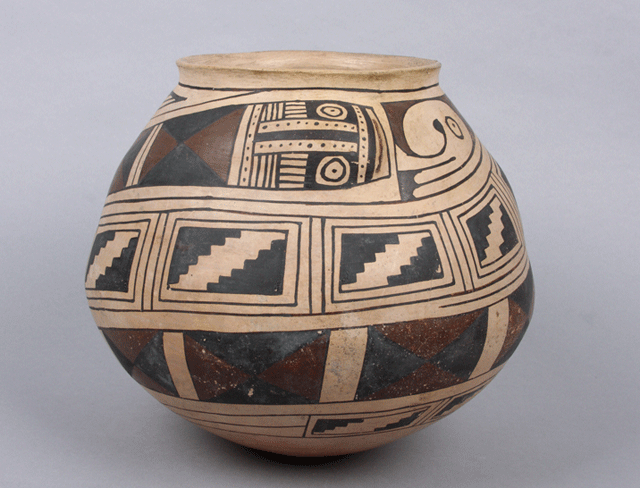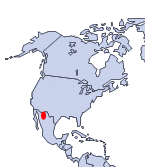 65.24.76, Ramos Polychrome ceramic vessel
Casas Grandes culture, Medio period (A.D. 1200–1450)
Northwest Chihuahua, Mexico and adjacent states
North-Alves Collection
Photograph by B. Bernard




This jar is loaded with symbols relating to the ancient Casas Grandes religion. The main part of the decoration is two snakes that spiral up the side of the pot. One snake has a red, black, and white body, while the other has a black and white body. In both cases the snake heads and bodies are covered with abstract designs. No attempt was made to indicate actual markings on snakes.
In the second photograph, below, the design element at upper left is a highly stylized horned serpent (a supernatural creature prominent in many prehistoric and modern North American religions). The Casas Grandes culture's depictions of creatures include a continuum of horned serpents, macaws, and other birds. We suspect that this blurring of lines between snakes and bird species is a symbolic allusion to nature's powers of transformation. Those powers were adopted by shaman-leaders of the Casas Grandes culture.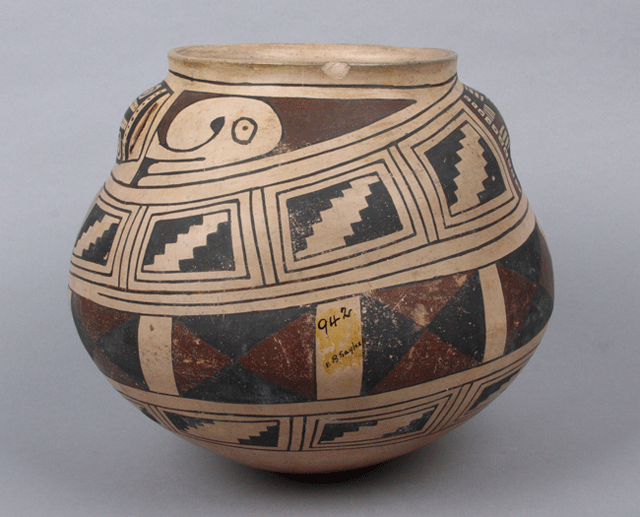 Photograph by B. Bernard.
To learn more about the symbolism on Casas Grandes pots, we recommend Signs of the Casas Grandes Shamans by Christine and Todd VanPool, and also Secrets of Casas Grandes, edited by Melissa Powell.
Incidentally, the name on the pot is well known to archaeologists. Among his other accomplishments, E. B. Sayles did the first thorough archaeological reconnaissance of Chihuahua, Mexico in the 1930s. It's less clear why his name is on a pot that wound up in a private collection.
To return to the thumbnail click here.
---
All content copyright © Maxwell Museum of Anthropology, University of New Mexico. High-resolution versions of photographs may be ordered from the Maxwell Museum's photo archives. Please make note of the catalogue numbers. For more information please visit the photo archives web page
---
Page last revised on March 25, 2010. Please report problems to toh@unm.edu