The Testimony of Hands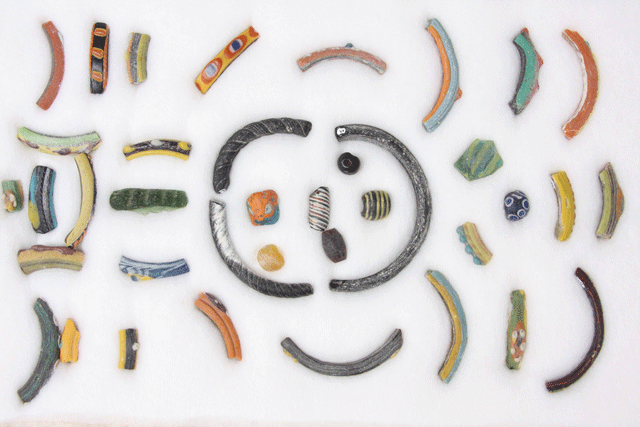 63.6.28, fragments of Roman ornaments of colored glass
Europe (500 B.C.–A.D. 500)
John Mackenzie collection
Photograph by B. Bernard

Today we tend to think of glass as a clear material, but that was not the case for most of its history. Glass was first made about 4500 years ago, and for centuries it was translucent to opaque and usually colored. Here we see Roman era beads and bracelet fragments. The largest fragment, half of a bracelet (right center of photo), measures 7 centimeters (2 1/2 inches) across.
Glass making survived the collapse of the Roman Empire, especially at the Roman refugee city of Venice. The fire hazards of glass making led the Venetians to shift the glass industry to the island of Murano, where it thrives to this day. If you have ever been to Murano or have purchased Murano glass, you have played a part in an unbroken tradition that stretches through the Roman Empire and for many centuries farther into the past.
To return to the previous page, please click on your browser's "back" button, or click here.
---
All content copyright © Maxwell Museum of Anthropology, University of New Mexico. A high-resolution verson of this photograph may be ordered from the Maxwell Museum's photo archives. Please make note of the catalogue number. For more information please visit the photo archives web page
---
Page last revised on December 21, 2009. Please report problems to toh@unm.edu