The Testimony of Hands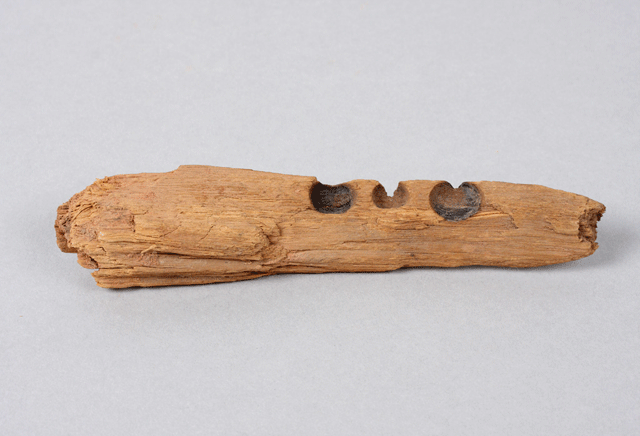 63.11.83, firedrill hearth of soft wood
Native American, northern Arizona (A.D. 1100–1300)
Florence Hawley Ellis collection
Photograph by B. Bernard

Until the invention of the modern match, about 200 years ago, making fire was a critical skill. One approach used by Native Americans was to twirl a stick (the fire drill) on top of another stick (the fire hearth), in the presence of tinder, until the resulting friction set the tinder aglow. It sounds complicated but a practiced user could obtain a starter fire in less than five minutes.
Here we see a fire hearth with several charred pits where the drill portion of the kit was twirled. The hearth is 14 centimeters (5 1/2 inches) long, thus quite portable. It is possible to twirl the drill with bare hands, but a small bow can be used to drive the drill instead. Such "bow drills," equipped with a wood point, were widely used in the New World to start fires.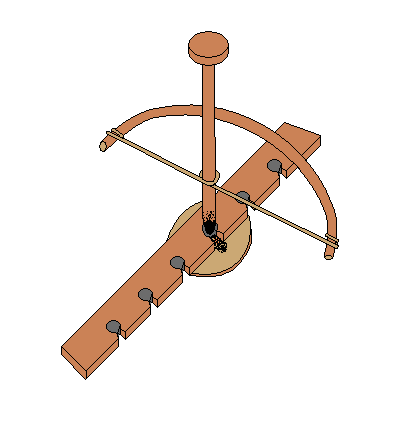 Drawing of a bow drill and fire hearth.
To return to the thumbnail on the Tools page, please click here.
---
The bow drill drawing is from the Wikimedia Commons. All other content copyright © Maxwell Museum of Anthropology, University of New Mexico. A high-resolution verson of this photograph may be ordered from the Maxwell Museum's photo archives. Please make note of the catalogue number. For more information please visit the photo archives web page
---
Page last revised on February 8, 2010. Please report problems to toh@unm.edu