The Testimony of Hands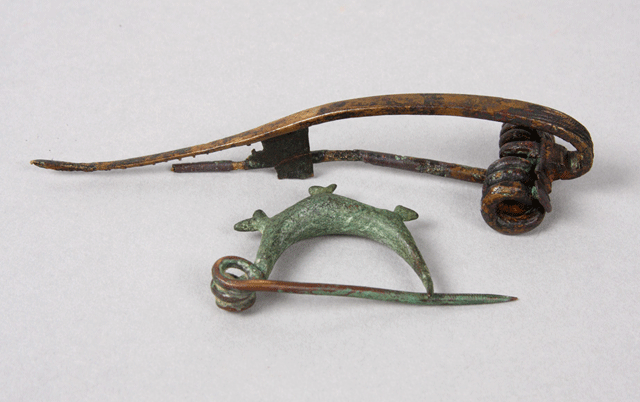 62.20.5a, .5b, two bronze fibulae
Europe Frank Hibben collection
Photograph by B. Bernard

A fibula was both an ornament and a tool. It functioned much like a giant safety pin, in an age when clothing was often large pieces of fabric and tailoring was almost unheard of. A typical use was to hold a cloak in place. The larger fibula is 11 centimeters (4 1/2 inches) long.
If you are familiar with "fibula" as a bone in the lower leg, there is a connection! Before metal pins (such as these ones) were devleoped, a large pin made from an animal fibula would have served the purpose. The Roman word fibula most likely derives from the use of that bone as a pin.
To return to the previous page, please click on your browser's "back" button, or click here.
---
All content copyright © Maxwell Museum of Anthropology, University of New Mexico. A high-resolution verson of this photograph may be ordered from the Maxwell Museum's photo archives. Please make note of the catalogue number. For more information please visit the photo archives web page
---
Page last revised on July 24, 2009. Please report problems to toh@unm.edu