The Testimony of Hands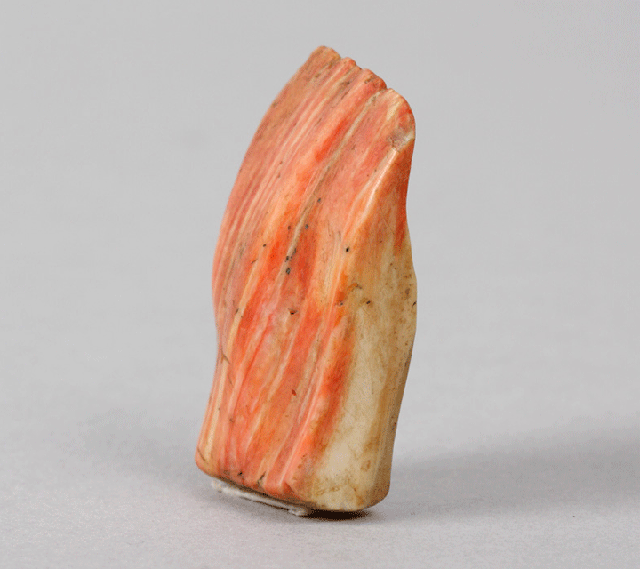 57.5.23, scraper of Spondylus (thorny oyster) shell
Preconquest Peru (pre-A.D. 1530s)
Watt Stewart collection
Photograph by B. Bernard

"Scrapers" were used for a variety of purposes, such as removing and processing hides and smoothing wood. A small scraper such as this one (it is 4 centimeters or 1 1/2 inches long) would have been for finer work. Clearly, someone wanted to have a tool that was beautiful as well as functional. Anyone who has lost track of time in a hardware store will understand.
The next picture gives a better sense of the chisel-like shape of the scraper.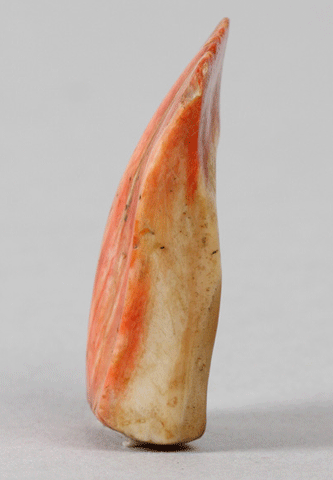 Photograph by B. Bernard
To return to the thumbnail, please click here.
---
All content copyright © Maxwell Museum of Anthropology, University of New Mexico. A high-resolution verson of this photograph may be ordered from the Maxwell Museum's photo archives. Please make note of the catalogue number. For more information please visit the photo archives web page
---
Page last revised on August 26, 2009. Please report problems to toh@unm.edu