The Testimony of Hands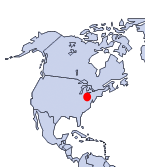 38.25.58, Pop-eyed bird stone of slate
Archaic period, pre-1000 B.C.
Deeds Collection (donated by Frank C. Hibben)
Photograph by B. Bernard



"Bird stones" are found in much of the eastern woodlands region of the U.S., but their function is unknown. They may have been attached to atlatls as highly ornamental weights—as were (we think) other carefully shaped stones from the same region and the same general time.
In the first photograph it's difficult to see why this particular stone is an example of pop-eyed bird stones, but the next two photographs, taken from a different angle, show the "pop eyes" clearly.


Photograph by D. Phillips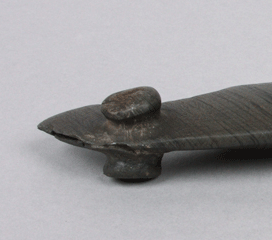 Photograph by B. Bernard
To return to the thumbnail click here.
---
All content copyright © Maxwell Museum of Anthropology, University of New Mexico. High-resolution versions of photographs may be ordered from the Maxwell Museum's photo archives. Please make note of catalogue numbers. For more information please visit the photo archives web page
---
Page last revised on March 11, 2010. Please report problems to toh@unm.edu