The Testimony of Hands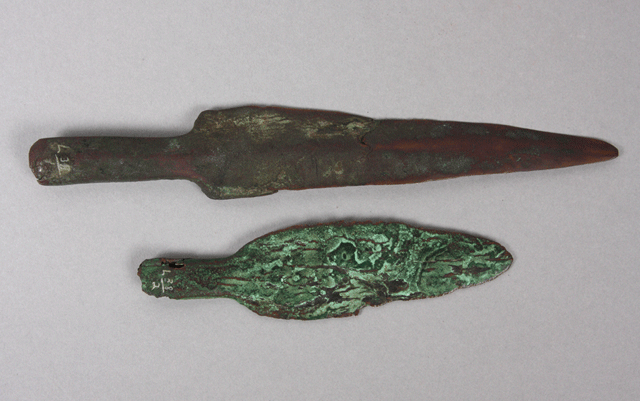 38.25.1, 38.25.2, two spear points
Copper
Central Ohio, probably Woodlands culture (post-800 B.C.)
Deeds Collection
Photograph by B. Bernard

The prehistoric inhabitants of eastern North America cold-hammered native copper to create weapons, other tools, and ornaments. These two examples appear to be spear points, but other functions cannot be ruled out. When such an item is found in its original context, as part of an excavation by trained individuals, the surrounding objects (or even the earth itself) can yield clues as to the item's exact function. When such items come to museums with no information about their original context, as is often the case with private collections, it is far more difficult to understand how an object was used, or how it fit in with the rest of a prehistoric society.
To return to the thumbnail, please click here.
To return to the Food page, please click here.
---
All content copyright © Maxwell Museum of Anthropology, University of New Mexico. A high-resolution verson of this photograph may be ordered from the Maxwell Museum's photo archives. Please make note of the catalogue number. For more information please visit the photo archives web page
---
Page last revised on May 27, 2008. Please report problems to toh@unm.edu