The Testimony of Hands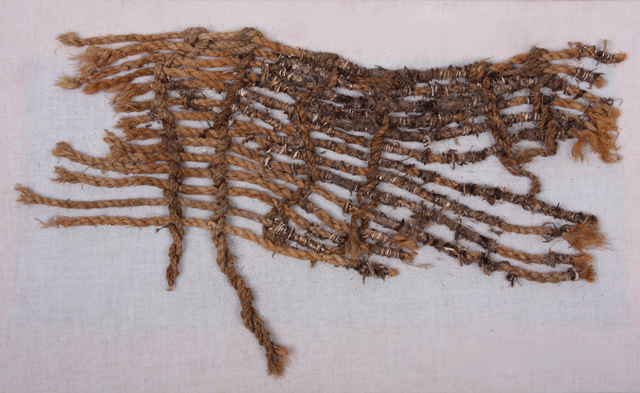 37.21.34, fragment of feather blanket
Canyon de Chelly, Arizona; prehistoric Pueblo (pre-A.D. 1300)
Anonymous gift
Photograph by B. Bernard
On the Colorado Plateau, the winters can be bitter cold. In response, the prehistoric Pueblo people invented something close to a modern down comforter. They began by preparing cordage (of yucca or similar fiber), which they then wrapped with split feathers. The harder split quill lay against the cordage, while the softer vanes lay to the outside, creating a fuzzy, air-trapping blanket. If you've ever run your hand over a feather boa, you know just how soft and pleasant-feeling the prehistoric feather blankets once felt. The next photograph shows a close-up of the blanket construction, with fragments of prehistoric split feathers still wrapped around the coarse foundation twine.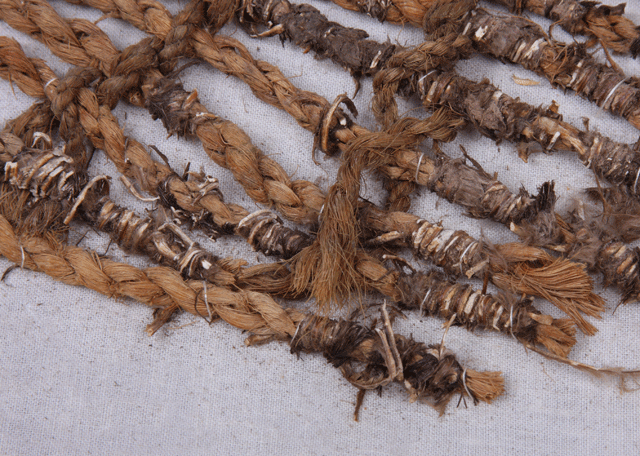 The fragment shown here is thoroughly unimpressive, as are most examples found by archaeologists. Such blankets usually rot away entirtely, so we count ourselves lucky to come across examples this well preserved! Archaeology isn't the study of beautiful things, but the effort to reconstruct and explain the human past. In that effort, an "ugly" bit of fabric, like the one shown here, can be surprisingly informative. Because of its many dry caves, Canyon de Chelly has been an important source of information on prehistoric textiles.
Although this fragment is described as an "anonymous donation," there are no privately owned sites in Canyon de Chelly, so no way for a private individual to own such an item, let alone be giving it away. We suspect that someone stole this textile fragment from a dry cave in Canyon de Chelly, then tried to make amends for that action by donating the fragment to a museum. The Maxwell Museum manages this particular textile fragment on the principle that it continues to be owned by the Navajo Nation.
Help us build the content of this page! Please contact us about information you'd like to see, information you have, and anything else via the User Feedback link.
To return to the thumbnail on the Textiles page, please click here.
---
All content copyright © Maxwell Museum of Anthropology, University of New Mexico. High-resolution versons of these photograph may be ordered from the Maxwell Museum's photo archives. Please make note of the catalogue number. For more information please visit the photo archives web page
---
Page last revised on September 15, 2009. Please report problems to toh@unm.edu