The Testimony of Hands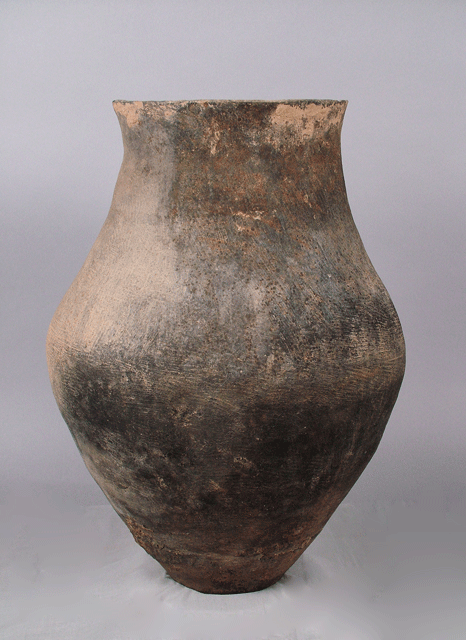 2005.25.1, early Navajo pot
Bureau of Land Management collections
Photograph by B. Bernard


This Navajo pot was found under a sandstone ledge in the Dinetah (Navajo homeland) of northwest New Mexico. It was one of three Navajo pots stored under the ledge, but two had broken. One of the broken pots was large and had a pointed bottom, and was heavily sooted from use as a cooking vessel. The other broken pot was smaller and had a rounder shape.
The shape and color of the pot, along with its "brushed" surface texture, identifies it as an example of Dinetah Gray, made in the early 1700s. It measures 53 centimeters (21 inches) tall and 41 centimeters (16 inches) in diameter.
The pot had cracked and was repaired with pine pitch. A radiocarbon date on a sample of the pitch indicated a probable date range between 1661 and 1806, supporting the age estimated from the style of the pot. Once the pot cracked, it was no longer suitable for cooking or water storage, and its final use would have been for storing a dry food such as corn (maize) kernels or pine nuts.
The pot was found in the mid-1900s by a hunter, who took it home. After his death a half-century later, the hunter's family turned in the pot. Because the pot came from public land, the pot is public property. In other words, it belongs to all of us. It is now on display at the Maxwell Museum.
---
All content copyright © Maxwell Museum of Anthropology, University of New Mexico. High-resolution versions of photographs may be ordered from the Maxwell Museum's photo archives. Please make note of the catalogue numbers. For more information please visit the photo archives web page
---
Page last revised on December 4, 2013. Please report problems to toh@unm.edu