The Testimony of Hands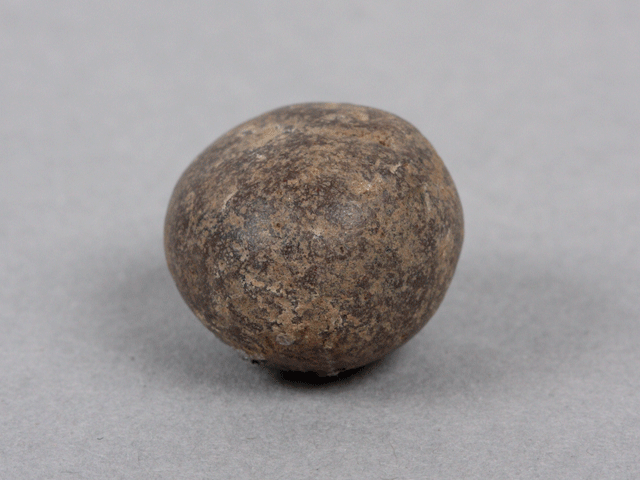 68.43.17, lead musket ball, 15 millimeters (0.6 inch) in diameter
Found at San Gabriel de Yunque (A.D. 1598–1610)
UNM field school collection
Photograph by B. Bernard

When the Spanish first came to New Mexico, they hoped for great mineral treasures. Mostly they were disappointed, but the new colony did have ready sources of lead ore. The Pueblo potters had been using that ore (in particular, the sources in the Cerrillos Hills south of Santa Fe) to create black paint on their pottery since the early 1300s. We know that after 1700 the Spanish took over the Pueblos' lead sources in the Cerrillos hills, forcing native potters to switch to new paint recipes. What we don't know, yet, is whether before 1700 the Spanish colonists relied on lead imported from Mexico, or whether they began mining and smelting lead ore within a few years of their arrival. Archaeologists can identify lead sources through mass spectrometry, so items such as this musket ball will allow us to document the early years of the Spanish-native competition over lead.
That's a scientist's point of view. For a Native American, a lead musket ball made by a Euroamerian colonist inspires a very different response.
Help us build the content of this page! Please contact us about information you'd like to see, information you have, and anything else via the User Feedback link.
To return to the thumbnail on the San Gabriel page, please click here.
---
All content copyright © Maxwell Museum of Anthropology, University of New Mexico. A high-resolution verson of this photograph may be ordered from the Maxwell Museum's photo archives. Please make note of the catalogue number. For more information please visit the photo archives web page
---
Page last revised on September 9, 2009. Please report problems to toh@unm.edu